M Ramzan Sewing Machine Co.
ERP Case Study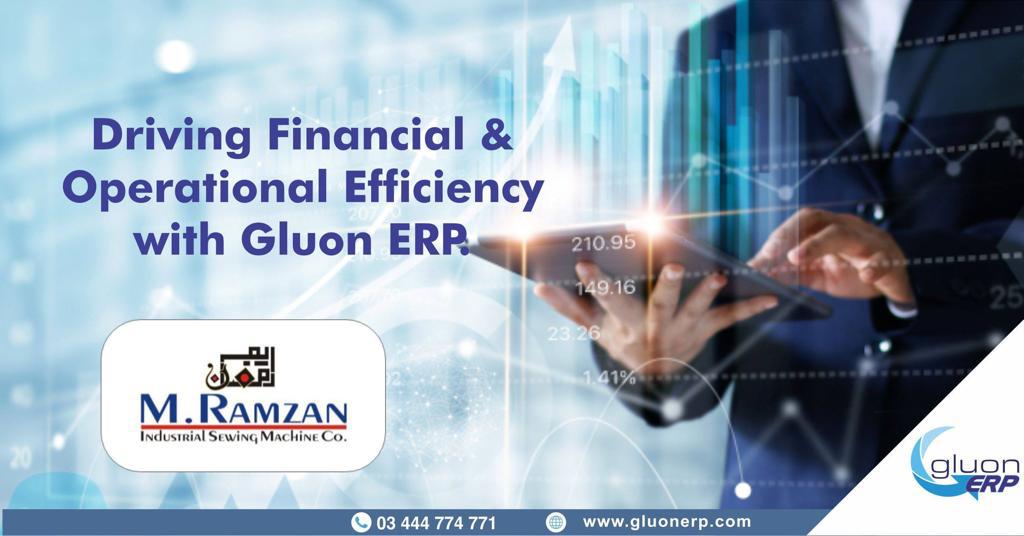 Upon the introduction of ERP Software in Lahore, M. Ramzan heard about us and approached us for assistance. Our team successfully integrated GluonERP into his business and after using it for some time; our team decided to ask him about his experiences firsthand.
Sir, tell me about yourself what do you do in this company and what do you deal in?
We are a machinery company, we have a lot of import and export going on, and we are a garments production business. I handle all functions within the company. After the directors and other high posts, I am the one who looks after office affairs and other important things within the factory side.
What are the challenges that you were facing before implementing the ERP software?
The manual method is hard to control when it comes to big companies. In the manual system, there is no double entry system, while in the ERP system there is a double-entry system that has been useful to us.
GluonERP has helped improve our company's functions because, as with all circumstances, your service has helped us gain more in less time. It has strengthened our overall reporting. It was initially difficult to grasp the programs and deal with them, but it helped later on. ERP for sale is incredible; ERP for inventory and financial statements is also impressive. In just a few months, we have achieved our goals using this ERP software in Lahore.
What are the challenges that you have faced during the implementation of ERP?
There were several continuing problems related to managing information, coordination, and accountability when I joined the organization, but with my attention and handwork, they were later resolved. I taught all the boys and I am trying to get over the issues with your people as well. There have been several problems with the trial at the beginning, but that is now fixed. I had been looking for the best ERP software in Pakistan to solve these issues. Finally, the ERP is nearly enforced and I am looking forward to better results in the future.
Will you refer GluonERP to any of your clients?
Yes, because GluonERP is user friendly. I would highly recommend it to other clients I work with as it has helped my organization to reach another level. It has all the prospects of becoming one of the best ERP software in Pakistan.
Why Use ERP Software for Your Manufacturing Business?
Companies use ERP software in Pakistan for the smooth running of the business. A company uses the system for better productivity internally as well as externally. Modern ERP for the supply chain here improves the process from internal to external supplies. It will also manage products and services with the latest ERP tools.
It also takes care of other services that are required throughout the supply chain within the companies. We all know that ERP software lets us make better choices and make better decisions. Therefore, when you get an ERP system in Lahore you get more productive market operation and more importantly more effective inventory management. In an age in which employees are required to multi-task, do something in less time, it is a requirement to get resources that can make major tasks such as accounting easier. We all know that using an ERP system lets us make better choices and make better decisions.
To buy ERP software you first must be clear about the need and its importance in an organization. Where you run the system on multiple sources ERP helps you run your data on a single source, which also eliminates the duplication. Another important reason to use an ERP system is to improve your business's insight. It also reduces the expense of tasks. Human error is very low using the software. Therefore, a full ERP system boosts the capabilities and productivity of your company.