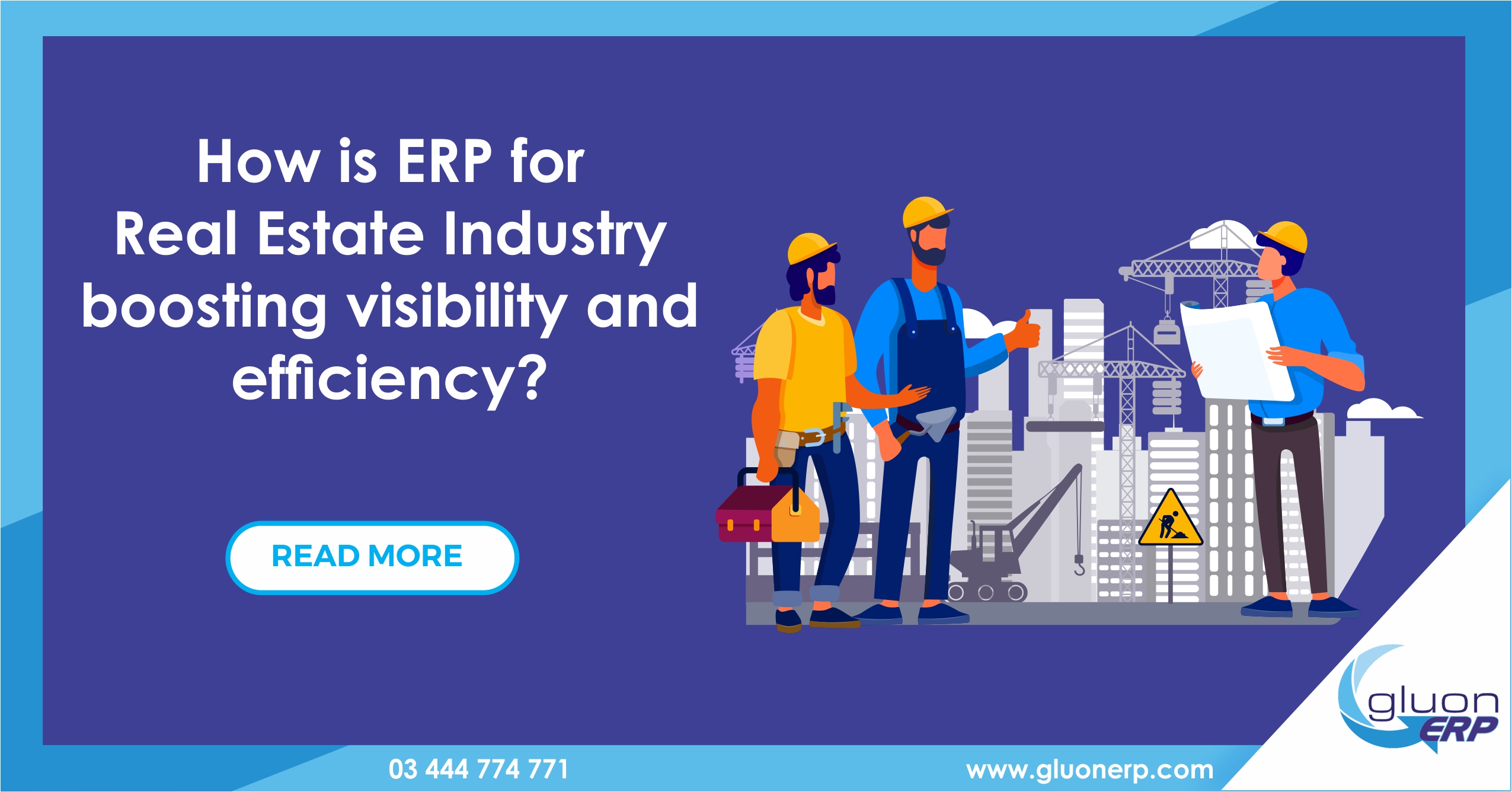 Are you managing a real estate business? It is an industry that is the main engine of the global economy. If you do, then you will need an effective device to handle it. When transactions, mergers, and improved marketability are prominent in today's business environment, you need strict business and data checks. ERP for real estate gives you the stability and power to do the same.
Whether it is a matter of construction preparation and implementation or expenditure, regulatory enforcement, or net income visibility, ERP is the one-point fix for all of these problems. Because a real estate company requires complicated, time-consuming internal policies and procedures, you want support structures that improve productivity and visibility in the business environment. Unnecessary to mention, real estate ERP solutions have all the features that make your company smart and fast!
Why Is There A Need Of ERP For Real Estate?
The real Estate Sector is one of the main industries engaged in coping with uncertain marketing conditions and large investments for its strong demand for residential and commercial ventures. Real Estate Company is bound to address numerous obstacles such as project budgeting, project management, unorganized net income, regulatory enforcement, and a competitive pricing environment.
To make money, it is important to sustain fair prices, improve performance through processes, and stay competitive by providing these advantages to consumers through optimal pricing solutions. Smart project planning implementation, regulatory authorities, budget planning, design, site analysis, and the rest of your business facets are becoming important.
The real estate industry must improve awareness and productivity around the enterprise. ERP for real estate makes it easier to minimize costs without rewriting market benchmarks or sacrificing efficiency. For an in-depth look at the spending budgets across projects and places, apart from the above-mentioned use of the real estate ERP solution, let us list a few more of the same functions.
Acquiring ground
The viability of the project
Addressing and tracking legal issues
Liaising
An estimate of the project
Project preparation methods such as PERT, CPM for handling dynamic projects
Simplification of everyday budgeting
Main costing and review of the KPI
Manage vendors quickly
A rapid review of supplies at all sites
Planning of material requirements
Control of productive inventory
Simple revenue and tax administration
Effective Cash Flow Management
Real-time monitoring and reporting
What Are the Benefits of ERP for Real Estate?
Here are some benefits listed:
1.  Project Management
Deal with all aspects of the buyer and seller with strong detailing and accounting tool by ERP for real estate
Effectively monitor the formation and management of contracts, dynamic accelerations, CAM restructurings, master reviews, lease-based agreements, or metered charges
Effectively increase rates by data packages, consumer price index (CPIs), set sums, ratios, or other rate generators, for example, prices per sq. foot
The financial scheme, a shopping district, or a special form of land
2.  Entity Management
One unified platform for various agencies and their parent corporations
Central Server File to document data relevant to vendors and products
Centralized purchase and sale
Centralized monitoring with a precise view of the business success of all assets under your management
3.  Sales Management
You have complete power over the deferrals
Build electronic schedules along with the sales transactions being reported
Hours of acknowledgment with different deferrals in no time
Ensure all the existing accounting principles are met
4.  Broker Management
Easily delegate existing properties to separate brokers
Handle digital listings and ads
Precise lead monitoring and accurate distribution pipeline
Simple brokerage and commission management
What to Look for When Investing In a real estate ERP solution
Buy real estate ERP solution from a firm that follows an exceptional experience to any customer. Making sure the programming experts are at your disposal when customizing ERP applications to the specifications and needs of your market setting. A stable and modern ERP solution meets the needs and assists with organizational and qualitative management.
This is a reality. Running a real estate company is getting more and more difficult and demanding. Increased demands of consumers, frequent shifts in legislation and emerging business realities make things dynamic. You need the right ERP for real estate tools to face these obstacles. Well-developed ERP implementation combines the degree of customer loyalty and productivity. Using an advanced ERP method, you can plan, administer, and organize your company well.
Monitoring properties and controlling asset lifestyle activities becomes easy when you are using a full-fledged real estate ERP solution for the same thing. ERP for real estate is capable of meeting the particular and demanding market needs of real estate firms. They are developed to promote quicker and greater market benefits by lowering running costs.
Therefore, real estate ERP solutions have been increasingly essential for organizations to stay effective, competitive, and successful. This system has the framework to handle your whole company with utter ease. Many organizations are still ignorant of the advantages for the future of their employees.