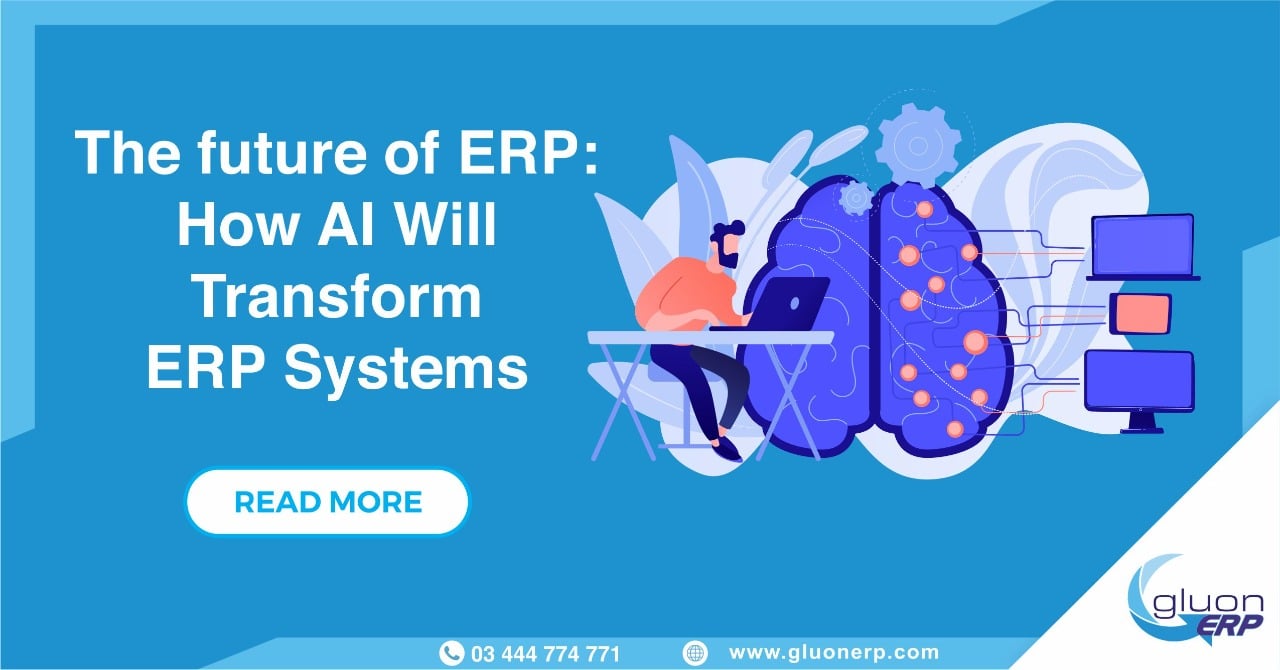 Unarguably in the upcoming era, Artificial Intelligence (abbreviated as AI) will have an impact on every software in the market. This includes Enterprise Resource Planning software (ERP software) too. Additionally, the AI-enabled ERP system would affect the essence of system-controlled business functions.
While AI is still new, the new machine learning is making its road into the various market and its relative operations. It has already created a profound impact on technology-driven business. According to a report published by Gartner, at the end of 2020 30 percent of B2B businesses will include AI to direct at least one of their sale processes.
The efficient technology of AI also acquires the ability to expand, which improves the abilities and effectiveness of the entire business. Additionally, with the advancement of ERP systems noticed in recent years, the business has revealed a huge sum of structured data. Moreover, it has continually struggled to convert that data into something more meaningful.
AI-enabled ERP in business operations:
The ways Artificial intelligence has to transform the ERP system in Lahore in various business operations are in detail as follows:
Customer Relationship Management:
AI-enabled ERP facilitates business software to make use of chat boxes. In turn, the system responds swiftly to customer and clients' queries. Additionally, this expands the focus on customer service, and business tends to see what their customers are asking about real-time. On the other hand, a virtual agent answers all questions from a customer.
Instead of acquiring a customer service representative, dealing abruptly with irritated customers, there is a better option. Consumers may ask queries about their orders, and Artificial intelligence will display info in seconds.
Furthermore, this also leads to employees shifting their attention to queries that require a human touch. Besides, AI also gathers real-time data from various sections of a business and scrutinizes customer history. In turn, it draws insight for better decision making.
Sales and Marketing:
One of the significant advantages of including an AI-enabled ERP system is the recognition of new opportunities for sales and marketing. It lends help to businesses to recognize the purchasing behavior of a client and work on who is buying what.
Additionally, the ERP system recognizes a possible market, left beside in marketing and branding schemes. Once the system identifies a group it caters to marketing efforts towards them. As a result, the business achieves greater market share, improving and benefitting the business revenue.
Inventory Management:
A common and usual faced by every business is related to inventory management. Efficient inventory management includes sustaining sufficient cash funds and helps in carrying a successful business process. However, when the industry includes AI-enabled ERP software, it significantly lessens up the risk of over and under production.
In turn, business faceless inventory-related issues and no overpriced small-scale productions to make up a variance. Certainly, when AI has incorporated ERP software, it results in fewer costs and higher profits for an organization.
AI-enabled ERP in industries:
Let us explore the impact of AI-enabled ERP system in several industries, listed below:
AI in Enterprise:
AI acquires the great potential to bring change at a larger scale to various companies. Mainly, it is beneficial where the customer and operational data is significant for business. With that said, every industry has its share of benefits.
The impact of this technology is considerable in processing heavy data-intensive sectors that rely on the highest reliance on future predictions carried based on notable info.
Artificial Intelligence helps companies to organize a large volume of data efficiently. It offers tremendous opportunities to direct human capabilities across various industries. The technology transforms the system through creativity and alertness.
AI in Manufacturing:
The manufacturing industry already acquires directed reality and predictive analysis tools. In Lahore with the introduction of the AI-enabled ERP system, these companies can make the shift to the digital future. The measure accomplishes the process of optimization.
The technology directs efficiency into a system that makes sure fast production in less time. With every intricate function carried out in the manufacturing industry, AI would modernize them, making them more efficient and less susceptible to errors.
AI in Retail:
Artificial intelligence will bring significant change in the retail business. AI-enabled ERP software facilitates retailers to use improved virtual reality features in advertising. Additionally, if you incorporate product catalog conception, it will dramatically enhance the shopper's experience.
Shortly, retailers incorporate chat boxes that enhance conversation capabilities. In turn, they will be able to get hold of the customer's mood and expectations. In simpler words, AI-enabled ERP software delivers personalized responses to client's questions. It improves customer loyalty points of your brand. As a result, it produces greater revenue after enhancing the brand's image.
Conclusion:
With the inclusion of Artificial Intelligence, companies have started to create an impact while changing the process of business operations carried out. It is creating severe waves, making roads for carrying business operations in everyday life.
Moreover, with the above info, the future of the ERP system in Lahore is certainly in safe hands. Once you include an AI-enabled ERP system in your business, you will observe a significant change in a matter of seconds.
However, if you are looking for the best ERP system in Pakistan, you need to grab onto Gluon ERP. Trust us you will not regret your decision.